I paint tiny works of art, so I only need a very small area in which to create and I spend many hours a day here, both on my computer and my small paintings. I have a beautiful view out my window and over the last few years I have added several bird feeders which are just a few feet away from where I sit. All through the long winters here in New England, I am treated by the sight of delightful little birds ..Chickadees, Cardinals, Titmice, etc. As Spring approaches, I get to enjoy a truly incredible array of birds. This Spring there are Grosbeaks, American Goldfinch, Downey Woodpeckers, but the most incredible and remarkable bird to visit is the Indigo Bunting (pictured above)!
This is the second year he has come to my feeders. This little bird is apparently quite shy and not often found in such highly populated area, so his presence is extra special. Its like I get to have a visual treat very time I look up from my work!
I am including a few copies of my past work inspired by the little "Winter Birds" out my window.
Enjoy, (and be watching for some paintings of Mr. Indigo Bunting)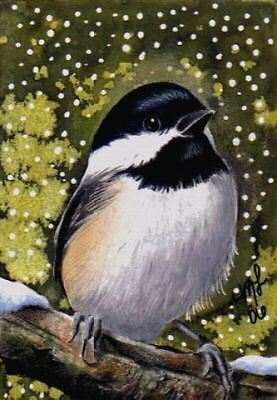 Chickadee


Chickadee


Brown Sparrow
Enjoy!!