Happy Christmas Eve!!!!!
As I sit at my worktable this morning and gaze out the big window at a chilly, icy, and wintry Christmas Eve...all the little birds at my feeders are there to greet me! What a joy!
This time of year they are especially hungry trying to stay warm. It seems when a storm is approaching, these little birds sense that and begin to "tank up" for the impending weather. I do so wish I was a better photographer, but you can get a sense of my busy bird feeders. I have mostly American Goldfinch (in their dusky winter plumage) Chickadees, Titmice, and Juncos. Occasionally a big Blue Jay will visit and he always looks so enormous next to the usual small crew!
Here are a few "Winter Birds" that I have painted in the past:
Brown Sparrow

White Crowned Sparrow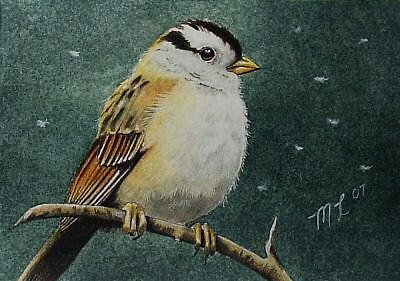 Chickadee

Female Cardinal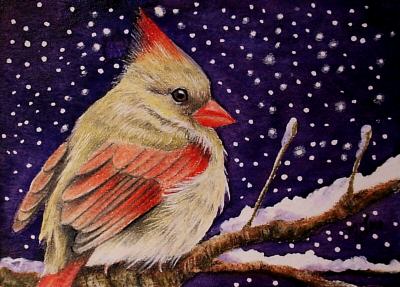 Have a safe, happy, and blessed holiday!!